Scorpion Vision Training in Oslo 20. - 22. March 2019¶
Fly in to the best machine vision training and learn from the experts behind Scorpion Vision Software and the unique Scorpion Stinger Technology.
Learn about 2D and 3D machinevision. How to build complete and compact machine vision systems with our Scorpion 2D and 3D Stinger cameras. Attend one, two or all three days.
Check the - Detailed Course Agenda
The course is based on the newest Scorpion Vision Software version XII release including 3D Stereo Vision and 3D Robot Vision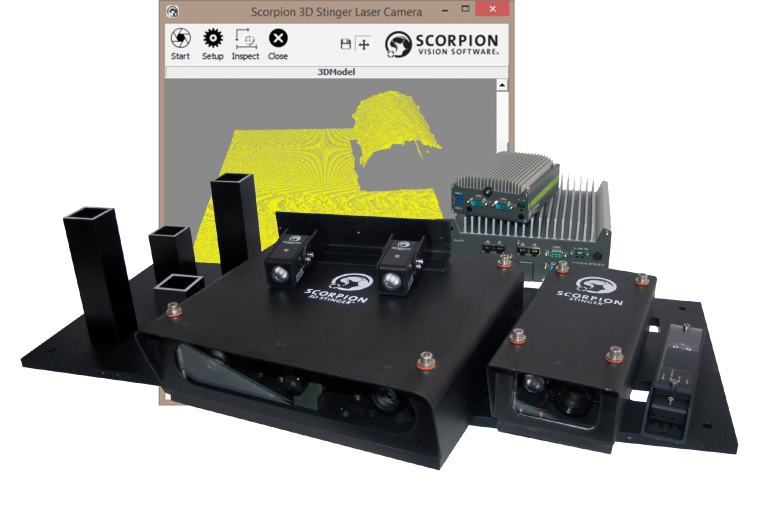 Date¶
Wednesday 20 to Friday 22 October 2016
Time¶
Day 1, 10:00 - 18:00
Day 2, 09:00 - 17:00
Day 3, 08.00 - 15.00
Course Content¶
The course content is divided into three days of basic training, compact vision systems and 3D machine vision:
Day 1 - Basic Scorpion Vision Training
Learn how to create your own 2D machine vision system
Learn the basics of Scorpion Vision Software and Scorpion STinger Technology.
Scorpion Vision XV - python 3.6 and more
Day 2 - Introduction to Scorpion Stinger 2D and 3D Hardware and Software
Learn how to configure a complete vision system with

Scorpion Vision Software
Scorpion 2D Stinger Camera
New Scorpion 3D Venom Camera
New Scorpion Box Camera
Scorpion Stinger LEDspot - LEDstrobe - Box and more
Scorpion Embedded or Ultra Compact PCs
Exercises

Social Dinner
Day 3 - Introduction Scorpion 3D Stinger
Automatic 3D Stereo Image Calibration

3D Stereo Vision

Scorpion 3D Venom Camera - 1 micron resolution

New NeuralOCR - best reader for direct partmarking

Scorpion 3D Stinger 200 mm Camera - RPP IR Laser

New Scorpion 3D Stinger Scanner - 3000 fps

Basic concept of 3D Laser Triangulation

New SMART dense 3D Image Creation

Scorpion 3D Stinger for Robot Vision
Venue¶
The training course is held in downtown Oslo
Tordivel

 

AS




Storgata

 

20




N

-

0184

 

Oslo




Norway



Price¶
500 EUR per day - 1500 EUR for three days.
Lunches and one social dinner are included.
Accommodation is not included and must be arranged by the participant. The course fee must be paid prior to the course.
50 % discount for participant # 2 from the same company.
Contents:
Scorpion Vision Software is a registered trademark for Tordivel AS