SCD-0018 Network Camera¶
Scorpion Vision Software supports Network cameras that serve images via http or ftp servers.
Currently tested with Sony SNC-CS20 Network Camera.
Prerequisites
Scorpion Vision Software version 7 or higher
Configured Network Camera
Note
On some machines with Windows Vista and Internet Explorer 8, driver may not load due missing dependency IEShims.dll.
In that case copy IEShims.dll from C:Program FilesInternet Explorer to the same folder where NetworkCamera.dll installed.
Property page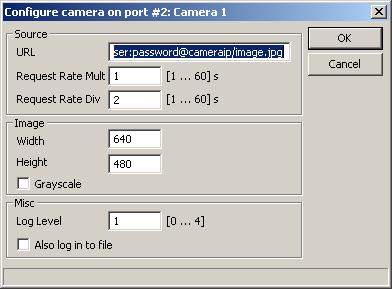 Properties
URL - Http or Ftp URL to image. URL for Sony Network Camera is http://<camera_address>/oneshotimage.jpg.

Request Rate Mult and Request Rate Div * These are multiplier and divider to the actual request rate, calculated as follows:

Actual Request Rate (seconds per image) = "Request Rate Mult" / "Request Rate Div".
The valid value range for both parameters is [1..60] seconds. Thus the actual request rate interval can be specified from the range of [1/60s..60s].
The actual request rate is frequency by which network camera is requested for a new image. If there is some network problem or delay then Scorpion would receive the image with delay, or would not receive at all. However the session is opened/closed each time image is being requested, so if the network problem is not permanent, it should not affect subsequent image requests.
Note
to set Frame rate for Sony SNC-CS20 camera, use Internet Explorer to navigate to settings page and then choose Camera -> Video Codec.
Change JPEG setting Frame Rate and click OK.
The camera refresh rate must match the actual refresh rate specified in the driver.
The following named properties can be dynamically accessed with the 'SetProperty' and 'GetProperty' commands:
'continuous' or 'continous' - read/write
'width' - read only
'height' - read only
'grayscale' - read only
'RefreshRate' - read/write
'RefreshRateUnit' - read/write
Examples¶
Example 1: Start Continuous grabbing
GetCamera

(

'0'

)

.

setProperty

(

'continuous'

,

 

1

)



Example 2: Stop Continuous grabbing
GetCamera

(

'0'

)

.

setProperty

(

'continuous'

,

 

0

)



Example 3: Set image request rate to 1 image per 5 seconds
cam

=

 

GetCamera

(

'0'

)




cam

.

setProperty

(

'RefreshRateUnit'

,

 

5

)




cam

.

setProperty

(

'RefreshRate'

,

 

1

)



Example 4: Set image request rate to 8 images per 3 seconds
cam

=

 

GetCamera

(

'0'

)




cam

.

setProperty

(

'RefreshRateUnit'

,

 

3

)




cam

.

setProperty

(

'RefreshRate'

,

 

8

)



Release Notes¶
1.0.0.6 - 15mar2011, min Scorpion Vision Software version: 7.x.x.x

ignore cache and always force download of files
changed names to more self-explanatory - 'refresh rate mult' and 'refresh rate div' instead of 'refresh rate unit' and 'refresh rate'

1.0.0.5 - 25jan2011, min Scorpion Vision Software version: 7.x.x.x

support of "continous" property along with "continuous"
new parameter - refresh length unit
constant image acquisition only when in continous mode

1.0.0.3 - 20jan2011, min Scorpion Vision Software version: 7.x.x.x

fixed camera reopen after driver properties changes

1.0.0.2 - 03aug2009, min Scorpion Vision Software version: 7.x.x.x

continuous mode
does not stop requesting images when connection lost
CompleteCallback called when new image received
driver renamed to NetworkCamera.dll

1.0.0.1 - 09jul2009, min Scorpion Vision Software version: 7.x.x.x