Installer Home¶
The Scorpion Vision Installer is the primary tool for Scorpion Vision Software deployment.
Scorpion Versions Management
When a new release version is available the user is notified. The version can be downloaded from the internet. The user can freely move between versions by selecting the version in the listbox.

All downloaded versions are available for selection.
Installer Management
The following operations are supported:
Make a local copy of the Scorpion Installer
Clear the Scorpion Installer download directory
Open Windows Explorer in the Scorpion Installer download directory

Installer Navigation
The following main sections are available from the navigation bars

The Scorpion Vision Installer manages the following items in the deployment process.
Access to Scorpion Online Resources
Displays the latest Scorpion Vision Release Notes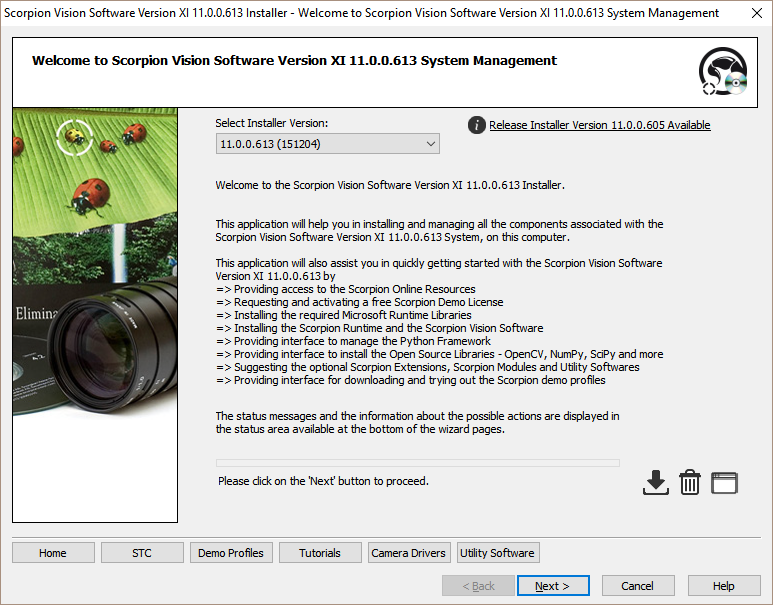 Scorpion Installation

Required Microsoft Runtime Libraries

Scorpion Runtime and Scorpion Vision Software
Recommended Scorpion Extensions

Python
SciPy
Numpy
OpenCV

Optional Scorpion Extensions

Scorpion Demo Licences Request Form

STC - Scorpion Tool Components

2D and 3D Demonstrations and Test Profiles

STP - Scorpion Test Profiles
SDP - Scopion Demo Profiles

SVT - Scorpion Vision Tutorials

SCD - Scorpion Camera Driver

3rd party Camera Vendors SDK and Driver

SIO - Scorpion IO System

Scorpion Utility Software

SWD - Scorpion WatchDog

OPC - Scorpion OPC Client including 3rd party drivers

SIO - Advantech Drivers

Remote Control

Adobe Reader